You can call it your own pocket of peace, your very own private haven, or your little corner of the world. However that means to you, when the time arrives and you finally take that leap to make that big-ticket purchase of owning a home, you want your vision to match your reality as closely as possible -- and that peaceful vision is inclusive of, of course, location.
Just 10 miles North of Seattle or West of Interstate 405, at the Northern edge of Lake Washington, and straddling two counties (King and Snohomish), lies what is known as the perfect jump-off point for either hiking in the Cascade Mountains, wine tasting in Woodinville, or exploring the beauty of the greater Puget Sound region -- Bothell.

Image Source: Explore Bothell
Community
The quaint town of Bothell started out as a logging community, appealing for its meandering Sammamish River and natural beauty. The city, however, remained to be known as what is called a "bedroom community" mainly due to its residents living in the area but commute to their jobs elsewhere. It wasn't until around the 1990's when several business offices opened within the city itself thereby generating jobs within the city itself that changed this. Bothell is now a thriving riverfront city consisting of about 18 communities and remains as one of the most popular Seattle suburbs.
Quick Trivia: "Bothell is a geographical oddity in that it straddles two counties (King County and Snohomish County). Because most streets in Bothell are numbered and not named, streets that cross the county line often change numbers. For example, 104th Avenue NE in King County becomes 23rd Avenue SE when it crosses into Snohomish County."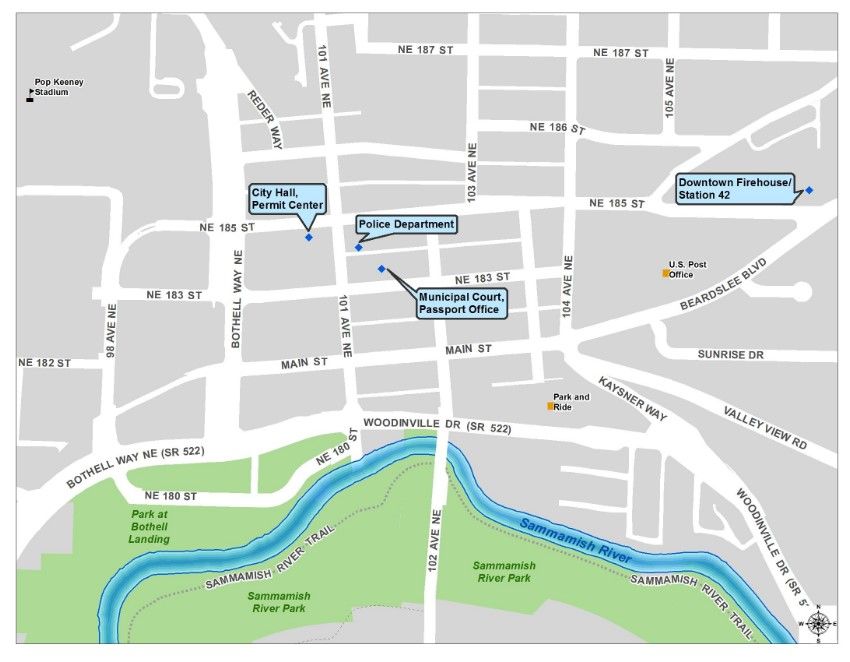 Image Source: City of Bothell
Getting Around
Bothell is a car-dependent city where most errands would require a car. There are however a few walkable neighborhoods within the city and these are:
| Neighborhood | Walk Score* | Transit Score** |
| --- | --- | --- |
| Country Village-Lake Pleasant-527 Corridor | | |
| Downtown-190th-Riverfront | | |
| Westhill | | |
*Walk Score is calculated by analyzing hundreds of walking routes to nearby amenities. Points are awarded based on the distance to amenities in each category.
**Transit Score is calculated by assigning a "usefulness" value to nearby transit routes based on the frequency, type of route (rail, bus, etc.), and distance to the nearest stop on the route.
By Car:

Get on

I-5 N

from

4th Ave then through

WA-520 E

and

I-405 N

to

WA-522 W

Woodinville Dr

in

Bothell

. Take exit

23

from

I-405 N then follow W

A-522 W

Woodinville Dr

and

101st Ave NE

/

1st St

to your destination

By Bus: You can take either the 522 Sound Transit bus or King County Metro Bus to get to Bothell from Seattle
By Uber: Uber is available from Seattle to Bothell
By Taxi: Seattle Yellow Cab

+1 206-622-6500; Jean's Taxi

+1 360-286-9462; STITA Taxi

+1 206-246-9999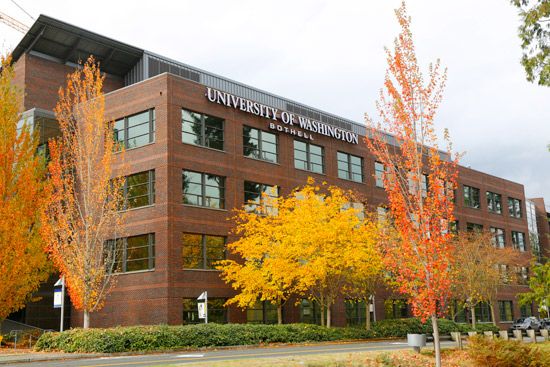 Image Source: University of Washington Bothell
Education
Bothell is part of the Northshore School District which covers portions of both King and Snohomish Counties. The city is also home to Cascadia College, named the second best community college in the nation, and the University of Washington Bothell ranked #37 in the nation among colleges and universities. These two institutions share the same campus.
There are about 45 preschools, 25 elementary schools, 12 middle schools and 11 high schools in Bothell. Listed below are the top 10 schools based on their *GreatSchools Rating
| Pre/Elementary | Middle | High School |
| --- | --- | --- |
| | | |
| | | |
| | | Secondary Academy for Success |
| | St. Brendan Parish School | |
| | Heritage Christian Academy | Northshore Special Services |
| | | Northshore Home School Networks |
| | | Woodinville Treatment Center |
| | Cedar Park Christian School | |
| | Woodinville Montessori School | Light of Faith Christian Academy |
| | Light of Faith Christian Academy | |
*GreatSchools rating: a simple tool that helps you compare schools based on test scores and other available data, including student academic growth and college readiness.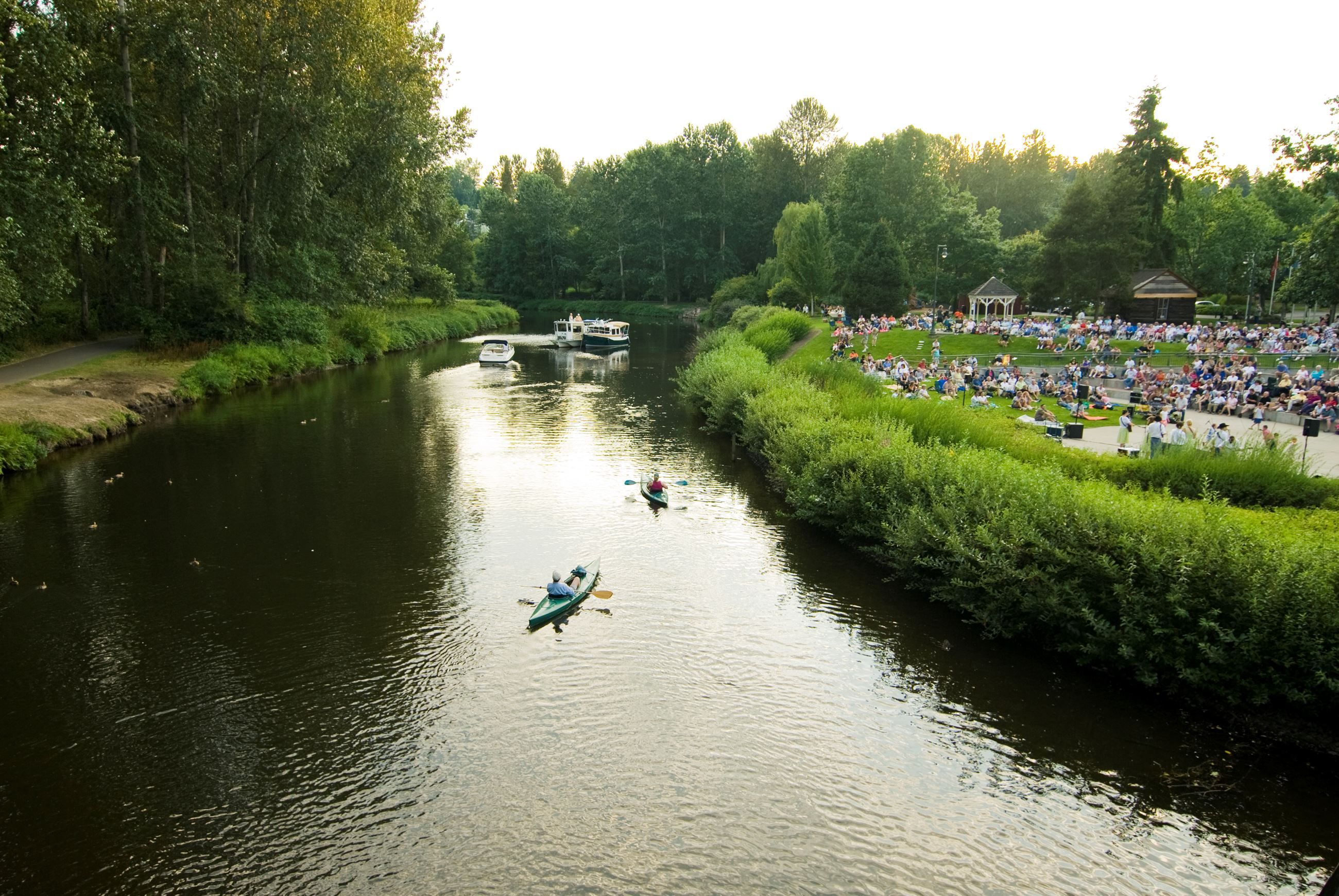 Image Source: City of Bothell
Recreation and Attractions
Hidden by soaring trees and nestled in the beautiful Sammamish River Valley, Bothell's visitors come to explore the vast variety of outdoor adventure prospects. The city is conveniently located next to the major Interstates of 405 and I-5 so its proximity offers opportunities for day trips to the mountains and coast, easy access to Seattle's downtown and waterfront, and Woodinville's wine country and many other regional attractions.
Recently Bothell has been pushing to revitalize its downtown area as well in order to celebrate the community's past and keep up with the changing times. Downtown is now called 'Bothell Landing,' and is filled with a variety of shops, restaurants, spas, and public spaces. Not quite the fast-paced urban feel of Seattle, yet full of hospitality and all the amenities a big city can offer.

Image Source: Explore Bothell
---
Think this area is perfect for you and your family? Well, we've added a little more. One of the most common requests we hear from clients is that they are looking for homes for sale in Bothell from $500,000 and above.
We know how hard it can be to check out properties that are actually in the specific area and within the price ranges that you wanted to look into. So we took out the flitting between web pages and listed it all out for you! Below is the most current listing of properties available in Bothell! Enjoy!